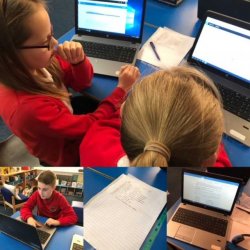 4th December 2018
The School Council members have been busy organising a non-uniform day to support the local food bank.
A few weeks ago, some of the School Council members visited the Salvation Army Church to see how they help people in the local community with the food bank. They collated a list of the foods / products needed for the food bank and we've decided to ask each class to bring a different item to school on our non-uniform day on December 14th. We're hoping to collect many items to support a very good cause over Christmas.

Here is the list of the items we're kindly asking for:
(You can also find a copy of the letter in the 'School Letters' section.)

Nursery - Biscuits
Miss Thomas - Tinned fruit
Miss Sheppeard - Tinned fruit
Mrs Dalgleish - Toothbrush
Miss W Williams - Toothbrush
Miss Hughes - Toothpaste
Miss Westphal - Shampoo
Miss Broad - Shampoo
Mrs Lewis - Shower gel
Miss H Williams - Shower gel
Mr Price - Soap
Mr Bridson - Custard or rice pudding
Miss Passmore - Custard or rice pudding

Diolch yn fawr i bawb.