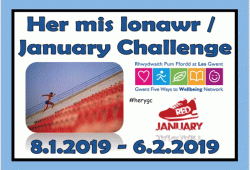 7th January 2019
We're looking forward to launching our January Challenge tomorrow.
As you are aware, we have decided to introduce a January challenge and we very much hope that you will join us. The aim is to get everyone to take part in 20 minutes of physical activity every day for 30 days, from Tuesday, January 8th until Wednesday, February 6th.

This challenge also coincides with Mind Cymru's 'Red' January challenge and Gwent's 'Five Ways to Wellbeing' campaign. During the month, we also hope to raise money for Mind Cymru (a charity that supports mental health) by making the challenge a sponsored one. (There is a sponsorship form included in this pack.) We'll also be holding a red day as an ending to our challenge on Wednesday, February 6th and the pupils can come to school dressed in red clothes if they wish.

Our aim is to get everyone taking part in 20 minutes of exercise every day and tracking these activities using the recording sheet included in this pack. We will be doing some extra physical education sessions within school hours but we're also encouraging pupils and their families to take part in different activities at home and in the local area e.g. the Parkrun. (See attached sheet.)

During the month, we will be looking at a different theme each week which coincide with Gwent's five ways to well-being campaign. The four themes are: a balanced diet / being active / taking notice / giving.

If you put any pictures of the pupils and the family taking part in any physical activities on the school Twitter account (@ygcwmbran), we will be using the hashtag, 'herygc'.

There are copies of each letter in the 'School Letters' section of the website.

Diolch and good luck!